Seaweed and Sod Farm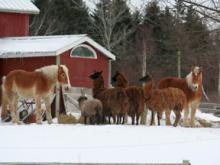 (902) 577-1129
(855) 322-0148
Overview
Ciad Mile Failte!
We work, live, and play in the Bras d'Or Lake Biosphere, a UNESCO's Biosphere Reserve. Seaweed and Sod Farm Bed and Breakfast is off the beaten path … but we like it like that! Our 100-acre earth-friendly farm is located 22 km up the Kempt Head Road in the middle of magnificent somewhere on a quiet stretch of road that overlooks the beautiful Bras d'Or Lake. We have stunning views of the Bras d'Or Lake and the Cape Breton Highlands. Our sunsets are spectacular! We admit it. It's a bit of drive to get here but, we think it's worth it and we're pretty sure you will too!
Our accommodations include two bedrooms with a queen bed in each and shared bath on the upper floor with the communal sitting room, TV room and kitchen/dining area are on the main floor.
Our farm is home to llamas, Cotswold sheep, a Percheron team, rare breed and heritage chickens and turkeys, and the requisite dogs and cats. Farm tours are available to paying guests at no charge.
Driving times from the farm:
25 minutes to the Englishtown Ferry (gateway to the world-famous Cabot Trail),
30 minutes to the Gaelic College,
40 minutes to the Newfoundland Ferries,
45 minutes to Sydney, and
90 minutes to the Fortress of Louisbourg.
Just up the road is our beautiful Ross Ferry Marine Park where there is a boat launch, picnic area, playground equipment, a walking trail and a small swimming area. Every Sunday afternoon during the summer there are hot dogs and french fries for sale with all the proceeds going towards the community run park. Right next door at the Fire Hall is the Ross Ferry Farmers Market.
Directions: Take exit #13 off the Trans Canada Hwy 105. We are 22 km up the road on the left-hand side. Don't follow your GPS as it may be unreliable in this area.
Although it is a lovely drive up the Kempt Head Road to our farm, if you are arriving in the evening you will want to ensure that you have eaten your supper before arrival.
Payment is Cash or e- money transfer. Your credit card is used only to reserve your room and is only charged in the event of a no-show or cancellation outside of the cancellation window.
Amenities
Bed Size - Q (Queen)

Cable or Satellite

Ceiling Fan or Oscillating Fan

Cellular Access

Clock/Alarm

Cyclists Welcome

Environmentally Friendly

Full Breakfast

High Speed in-room Internet Access

Motorcycles Welcome

Open Year Round

Pets Are Welcome

Shared Bath (4 Piece)

TV (On-Site)

WiFi
Room Rates
Eagle Room - Queen bed, shared bath, overlooking the farm
Whale Room - Queen bed, shared bath, overlooking the Bras d'Or Lake