River Nest Wilderness Cabins
River Nest Wilderness Cabins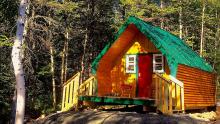 River Nest Wildernest Cabins
North River Bridge
,
NS
B0E 1B0
Overview
Located just off of the world famous Cabot Trail along the Murray River is the newly established River Nest Wilderness Cabins. The concept was to have individually designed wilderness themed cabins that blend in seamlessly with the natural surroundings around them.
On each side of the property are 2 small brooks that quietly flow leading to the river and then to the ocean. All the 3 cabins have a view of the river. On the front of each cabin is an 8 * 12 patio deck with half of the deck covered by the roof's overhang. If the rains are falling you can comfortable enjoy the view and the summer skies from the view of your own porch on our teak chairs. Next to our little village is North River Kayak Tours in which the owner Angelo started some 24 years ago. Access is only footsteps away so you can just roll out of bed and go kayaking with our award winning adventure business. www.northriverkayak.com There is a washhouse located on site within footsteps with two hot showers, 2 sinks and 2 toilets.
There is a hiking trail connected to the village where you can hike to the top of the Murray Mountain and get panoramic vistas of the Mountains and the waterway from above. The future plan is to have a Tetrahedron shelter where folks can reward themselves with the breathtaking viewscapes from 1000' above sea level. Spinazzola has put tuned acoustic guitars in each of his cabins with a tutorial book that he designed in case you want to learn the basics of guitar playing. "You can never be bored here unless you really, really want to be and there is nothing wrong with that either" he says. We are presently working on our open concept timbre frame cook out area. Here you will be able to gather for fire, food, fun and make your own outdoor pizza's in our outdoor pizza oven.
Our location is a great base to stay while doing the Cabot Trail. In November of 2015 owner and operator Angelo Spinazzola pulled out his Stihl chain saw and embarked on another one of his visions. Well…. "I would sit in the woods on this site and imagine a small quaint village footsteps away from my kayak shop where folks can relax in tranquility at this hidden gem. Now it is no longer a vision but a sweet reality" says Spinazzola. Angelo built all the cabins by hand and was quite meticulous making it as visually appealing as well as uber comfortable. Angelo Spinazzola created North River Kayak Tours some 24 years ago. Angelo is a multi award winning musician with 7 CD's to his credit, a world traveller with 32 countries travelled and a very curious and ambitious human being. " I know what it is like to find a sweet place after a good day of travel. There is nothing like a good nights sleep when you are far away from home"
Amenities
Bed Size - Q (Queen)

Bed Size - S (Single)

Birds & Wildlife

Coffee Maker

Outdoor Parking

Shared Bath (3 Piece)

WiFi
Room Rates
$114.00 - $129.00 (+ HST)
Each unique wilderness cabin can sleep a maximum of 4 persons. There are 2 Queen beds in 2 cabins and 2 Twins in one cabin. The cabins have locally custom designed iron railing in the loft area where 2 people can sleep cozily. Antique singer sewing machines have been converted to desktops with the tabletops made of an actual piano top. It makes sense since it is sitting on top of a singer sewing machine J Angelo also made stained glass windows for all the cabins as an added touch. Heating inside the cabins are infrared and very efficient. All cabins have access to our Italian Delonghi coffee machine and refrigeration in our main shop area. The patio deck has 4 feet of the 8 feet covered so if the rain falls you can still sit outside and watch the weather. Bird's nests, birdhouses and hammocks surround the property.