Lighthouse Cottages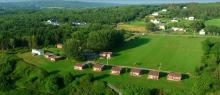 Overview
Lighthouse Cottages offers gorgeous ocean views and the opportunity to experience Cape Breton's natural beauty, untouched by time. We are located in the beautiful seaside community of Port Hood, 30 minutes north of the Cape Breton Causeway along the pristine coastline of the Ceilidh Trail (Route 19). We invite you to experience a taste of life by the sea with a relaxing stay in one of our nine two-bedroom cottages, which overlook a gorgeous yellow-sand beach and the warmest ocean waters north of the Carolinas.

Uniquely located, we invite you to experience all that Cape Breton has to offer with Lighthouse Cottages as your home base. Ask our experienced staff for recommendations about day trips and local events, and visit our website for activities to enjoy during your stay with us.

9 two-bdrm H cottages (Q,D), 4-pc bath, kitchenette, living room, radio, CBTV. Laundromat. Free parking. All the amenities of home. Sandy beach; ocean swimming; play area, 1-km (0.5-mi) boardwalk.
Nearby trails for walking/hiking and cycling.

Amenities
Access - Partial

Beach Nearby

Cable or Satellite

Clock/Alarm

Clothes Storage

Washer/Dryer (On-Premises)

WiFi