The Villages of Mountain Gap Resort
The Villages of Mountain Gap Resort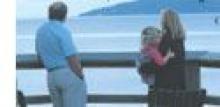 The Villages of Mountain Gap Resort
217 Highway 1
P.O. Box 1570
Overview
The Villages of Mountain Gap Resort is nestled on the shores of the Annapolis Basin in Smith's Cove in the Fundy Shore and Annapolis Valley region. The resort is situated on 36 acres of beautiful grounds and a private beach providing our guests with various activities. Many enjoyable hours can be spent exploring our private shoreline, swimming, beachcombing, or at a bonfire. It is just a 10-minute drive to the fishing community of Digby where you can explore local craft shops, museums, Fisherman's Wharf and the Digby Scallop Fleet. Other nearby attractions and activities include whale watching charters, a visit to historic towns and gardens, Upper Clements Theme Park, and 18-hole championship golf course and deep-sea fishing to name just a few.
Our accommodations include 22 motel rooms, 7 suites, and 7 cottages with 3- or 4-piece baths. Cots and cribs are available at an additional charge. Guest features include a tidal beach, outdoor swimming pool, playground, lawn games, walking trail, bonfire and recreation areas and laundry facilities. Wireless Internet is available around the pool area and in some units. Restaurant will be open this year for evening meals and continental breakfast.
Mountain Gap Inn  accepts most credit cards including Visa, MasterCard and American Express.
Amenities
Beach Nearby

Bed Size - D (Double)

Bed Size - Q (Queen)

Birds & Wildlife

Cable or Satellite

Cellular Access

Clock/Alarm

Coffee Maker

Continental Breakfast

Cyclists Welcome

Dining Room

Ensuite Bath (3 Piece)

Ensuite Bath (4 Piece)

High Speed in-room Internet Access

Lounge (Licensed)

Meeting Rooms

Motorcycles Welcome

Outdoor Parking

Pets Are Welcome

Self-Contained Kitchen

Small Pets Welcome

Swimming Pool (Outdoor)

Telephone (On-site)

TV (In Room)

WiFi