Mersey River Chalets and Nature Retreat
Mersey River Chalets and Nature Retreat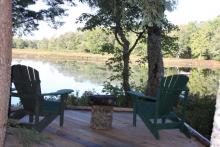 Tim Atkins and Andrea Wegerer
Mersey River Chalets and Nature Retreat
(902) 682-2443
(877) 667-2583
Overview
Mersey River Chalets & Nature Retreat is a four-season wilderness resort nestled along the Mersey River in Maitland Bridge in the Bay of Fundy & Annapolis Valley region. Our retreat is situated in the heart of the Southwest Nova Biosphere Reserve, a UNESCO Site, and 5 km / 3 mi from Kejimkujik National Park & National Historic Site. 
Our chalets are fully equipped to prepare your own meals and also have a propane barbecue. Our resort has something for everyone – from peace and relaxation to a variety of outdoor activities for all fitness levels.
We offer kayaking, canoeing, lake and river swimming, boardwalk and nature hiking trails, bird watching, fishing, snowshoeing, cross-country skiing and eco- tourism packages. Kejimkujik is the only inland national park in the Maritimes, where visitors will find historic canoe routes, portages and many beautiful hiking trails in the park. The park is 381 km² with abundant lakes and rivers ideal for canoeing and kayaking.  Other nearby experiences include whale watching tours on the Bay of Fundy, exploring the historic town of Annapolis Royal, as well as Upper Clements Adventure Park.
Our accommodations include 7 secluded chalets (queen, twin), with a private 3-piece bath (shower) and wood stove; 4 rooms (2 doubles) in our guest lodge, with a private 4-piece bath; 3 tipis and 2 wall tents, with 2 shared 3-piece baths (shower) and a fully-equipped kitchen shelter and a large fire pit. Meeting facilities are also available.  All our units are non-smoking. Pets are permitted but must be on a leash and owners must clean up after their pet. 
Visa, MasterCard and Direct Debit are accepted.

Amenities
Access - Partial

Bed Size - Q (Queen)

Bed Size - S (Single)

Birds & Wildlife

Clock/Alarm

Clothes Storage

Coffee Maker

Cyclists Welcome

Ensuite Bath (3 Piece)

Ensuite Bath (4 Piece)

Green Destination

Microwave

Mini Fridge (In-Room)

Motorcycles Welcome

Non-Smoking Property

Open Year Round

Outdoor Parking

Pets Are Welcome

Self-Contained Kitchen

Telephone (On-site)