Dockside Suites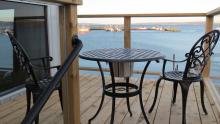 P. O. Box 1060
34 Water Street
(902) 245-4950
(866) 445-4950
Overview
The Fundy Complex is on the waterfront boardwalk overlooking the world-famous Digby scallop fleet; located minutes from the ferry.
The complex is composed of:
•    18 beautiful, modern, spacious, air conditioned, non-smoking housekeeping suites and apartments with queen/king-size beds and full bathrooms with jetted tubs or rain showers. Each unit has a fridge, coffeemaker, hairdryer, iron & ironing board, high-speed internet and a big-screen TV. Some rooms have a living/dining area with sofabed, full kitchen or kitchenette, electric fireplace and separate bedroom. Most have a balcony with a gorgeous view. Free parking available.  
•    2 licensed restaurants (Fundy Restaurant and Dockside Restaurant).
•    Lounge (Club 98).
•    Private board/meeting room.
Pets are welcome (fee applicable). Cots and playpens are available on request (fee applicable). Kayak and bicycle rentals are available during the summer.
Check-in 3:00 pm; check-out 11:00 am.
Amenities
Air Conditioning

Beach Nearby

Bed Size - K (King)

Bed Size - Q (Queen)

Cable or Satellite

Cellular Access

Clock/Alarm

Clothes Storage

Coffee Maker

Convention Room

Cyclists Welcome

Dining Room

Elevator

Ensuite Bath (3 Piece)

Ensuite Bath (4 Piece)

High Speed in-room Internet Access

Lounge (Licensed)

Meeting Rooms

Microwave

Mini Fridge (In-Room)

Motorcycles Welcome

Non-Smoking Property

Open Off Season

Outdoor Parking

Pets Are Welcome

Restaurant (Nearby)

Restaurant (On-Site)

Telephone (On-site)

TV (In Room)

WiFi