On Wine-Time In Nova Scotia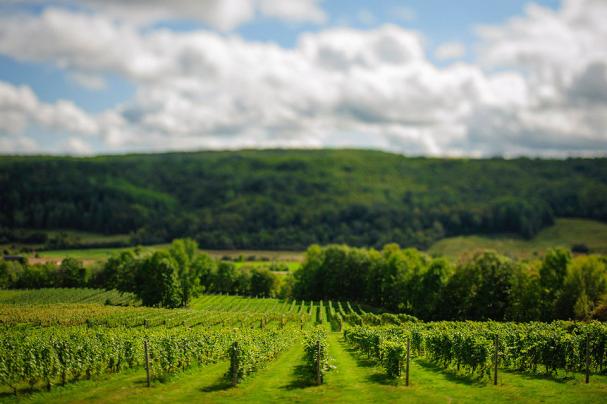 When a wine lover visits Nova Scotia, they will likely end up exploring the Gaspereau Region, located in Kings County. With its rolling hills, vast farmland, unique geographical location and weather, this picturesque landscape is becoming recognized worldwide.
Atlantic Canadians quickly embraced Benjamin Bridge Nova 7 wine making it a favourite all over the region. Their blend of grapes grown along the Bay of Fundy is very distinct, pleasing even the most refined palette.
The stunning elegance of this property allows visitors to experience a world-class tour. Its cool climate mirrors that of the Champagne region of France, allowing guests to escape to the countryside in style.
Available by appointment for tours and elevated tastings, Benjamin Bridge is an experience not to be missed. They offer a variety of sparkling wines, Rieslings, and even a Cabernet Franc Rosé. Since its inception in 1999, Benjamin Bridge has garnished high praise. .
Not far down the road from Benjamin Bridge you will find Gaspereau Vineyards, who offer award-winning wines on your tasting tour. From bike riding through the scenic countryside trails, or sitting down for a meal to enjoy a robust red or soft fruitful white, this vineyard has plenty to enjoy. Every Friday the in-house chef shares easy recipe tips with guests, while suggesting the perfect wine to match.
On the south side of the Gaspereau Valley you will find a rare gem. L'Acadie Vineyard is nestled against the rocky soil, which one might say lends itself to being their secret ingredient. Producing international award-winning 100% organic wines is what makes this vineyard stand out among the rest. They are known as Nova Scotia's premier producer of sparkling wines, which are sought after all over the globe. Stop in for a visit, a tasting, and even a lesson in their methodology. L'Acadie's Vintage Cuvée Rosé is the perfect accompaniment along side your lobster dinner.
Make your way through the bucolic countryside to Luckett's Vineyard. Famous for his Buried Red, this limited edition wine is buried in French and American oak barrels eight feet underground for over two years. The dark, rich flavour paired with a steak will make your dining experience at Luckett's restaurant one you will not soon forget.
When sitting outside on Luckett's Crush Pad Bistro patio, your view will be equally as satisfying as the meal itself. The vineyard stretches as far as the eye can see. You may spot a red English phone booth smack dab in the middle of the vineyards that you can actually make calls from; it's also a great spot to snap a photo memory.
About a half an hour drive west of Luckett's you will find Avondale Sky. It is one of the oldest vineyards in Nova Scotia, yet their winery is one of the newest. Located inside of an old church on the Avon Peninsula, the translational landscape of the St. Croix and Avon Rivers helps to create a bouquet unique to the region. Their Pinot noir is aged 40 months before being brought to the table. It can be paired with many of the menu items found on site at the D'Vine Morsels Restaurant.