Prince Edward Island Lobster Stroll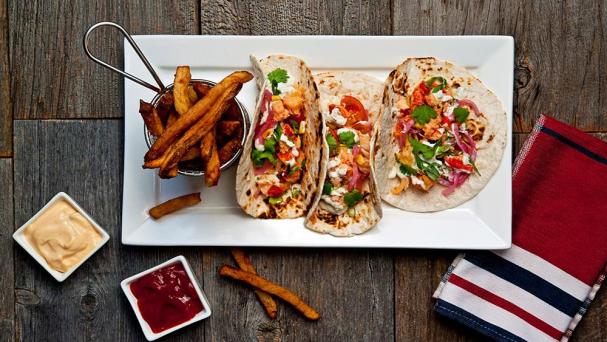 Lobster, in all its splendor, will often bring hungry travelers to the table. Prince Edward Island may be the smallest Maritime Province, but it boasts a big offering when it comes to serving up some of the best lobster in the region.
Row House Steak & Lobster Co on Richmond Street, Downtown Charlottetown, offers a seafood lovers dream menu. The lobster tacos are stuffed to the brim with charred corn, tomato salsa, pickled red onions and generous lobster chunks. For a little flavor kick, try the lobster lollipops, a tempura battered lobster served with spicy mayo and cilantro lime dipping sauce. For a snack try their mini lobster roll or lobster poutine. This place is a truly a lobster mecca.
If you prefer your lobster in a chowder and love discovering places off the beaten path, check out The Roadside Gallery and Cafe, located in Augustine Cove, P.E.I. There are a million little things about this place that will make you appreciate the authenticity of this small town shop. Along with showcasing local art, they also serve up one of the best seafood chowders on the island. Filled to the brim with large chunks of lobster and served with a freshly baked tea biscuit this bowl will beg you to lick it when you are all done.
With much to discover on this picturesque island there are many roadside spots that allow visitors to stop and go. The Lobster Shack on the water's edge in Souris, P.E.I is one of them. Prepared with a little Hellman's mayo and served on a lightly buttered/browned bun, their lobster roll makes for a great quick bite. On the side you will find potato chips and pickles. This is the perfect grab and go lunch for any lobster lover.
The Sand Bar & Grill on Panmure Island, is a beachside restaurant with something for every taste bud. The restaurant features a variety in culinary delights, from their famous lobster pot pie, right on up to the lobster quesadilla and lobster roll served on a pretzel bun. Satisfying your lobster craving is their specialty. With a beautiful beach close by, you can eat in or take out to enjoy those delicious eats while you watch the sunset.
If a full-on, fresh lobster supper is what you are in the mood for, check out New Glasgow Lobster Suppers. Dating back to 1958, their original lobster supper is a feast served up with all the fixings. Every meal includes an appetizer, salad and a dessert. Homemade rolls and bread welcome every guest. You can order your lobster in a variety of sizes, and they all come with a generous serving of butter. No one is leaving hungry.