Nova Scotia's Favourite Beaches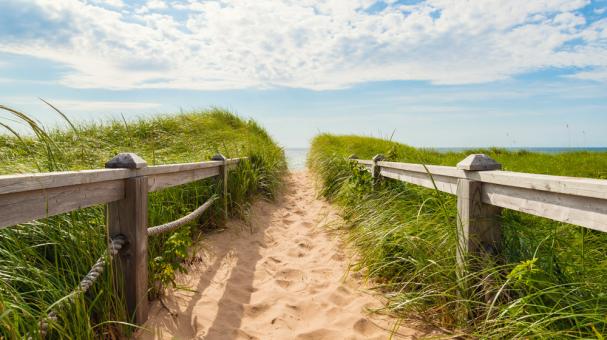 Maritime life brings with it a bounty of fresh seafood, stunning views, and best of all, beautiful pristine beaches. Nova Scotia boasts a plethora of clear-blue water beaches and white sandy shores that inspire locals and visitors alike. Plan a perfect day at the beach at these top five spots:
Mavillette Beach is a great destination for beach lovers and bird watchers. It's notorious for long periods of thick Maritime fog, which all but obscure the beach, yet on a clear day it's one of the prettiest stretches of beachfront in the province. Across the street is a large marshland with a bird watching platform where you can look for sparrows, snipes, swallows and the majestic great blue heron.
The three white-sandy beaches surrounded by turquoise water at Crystal Crescent Beach, in Sambro, make for a fabulous day at the beach. They can be quite busy on a hot summer's day, so head out early to find a good spot. There is an extensive boardwalk and trail system along the beach. If you are feeling up for a long walk, the trails leads out to Pennant Point, which is a 10-kilometer trek.
When visiting Nova Scotia take a trip around Cape Breton Island's Cabot Trail. Inverness Beach is one of the most popular stops along the way. If you enjoy collecting sea glass, this is the spot to find that perfect souvenir to take home. Inverness Beach is considered to be one of the best places in the Province when on the lookout for this one-of-a-kind gem. The beach is complete with a wooden boardwalk, a canteen with washrooms, and change rooms on-site. The beach is supervised during the summer months.
If you are looking for some ocean solitude, Beach Meadows along the South Shore of Nova Scotia is small and usually not to crowded. Peace and tranquility await you at this beach. As the water hits the white sand, you cannot help but feel relaxed. .
Martinique Beach is Nova Scotia's largest sandy beach located along the Eastern Shore, boasting over 5 km of unspoilt beach beauty. Beachgoers just might spot a piping plover, as the area serves as a wildlife refuge for migratory waterfowl. The park also includes a boardwalk and change rooms.