Explore the World's Highest Tides in New Brunswick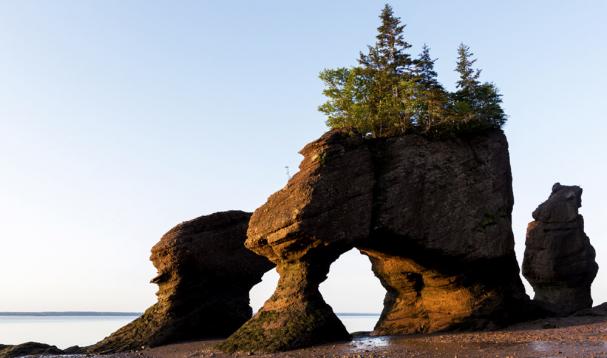 New Brunswick has much to discover for those who love raw nature and its beauty. From mountains, to rivers and lush pine forest, this maritime province is the perfect place for explorers, with the Bay of Fundy as its window to the world.
Not only does the Bay of Fundy have the highest tides in the world, it also has some of the most spectacular views in the area. Along the Fundy Shore, you will find the Hopewell Rocks, also known as the Flowerpot Rocks. Created by the tides, these grand formations are one of New Brunswick's most famous attractions, and the perfect spot for a photo opportunity.
Visitors can walk the silky, rich mud of the ocean floor when the tides are out. The chiseled red cliffs are the ideal backdrop for a photo with the trees towering above. The small tidal pools are filled with sea creatures; hermit crabs, eels and small shrimp scurrying about looking for a safe spot to hide.
More beauty awaits further down the Fundy coast line at Irving Nature Park. This 600-acre landscape was created to help protect the area. With many lookout points along the way, bird watchers will most likely spot one of the many marine birds that travel annually between the Arctic and South America. There have been over 360 species of birds found along this waterway.
There are eight different walking trails, making it one of the best places to take in the view of the Bay of Fundy coastline. There is even a seal observation deck and interactive educational activities; learning about their flora and fauna can be fun for the kids.
Plan to pack a picnic lunch, as there are many sites set up with gas barbeques provided. Special events are often on their calendar, like meteor showers and moonlight snowshoeing. Do not forget to visit the lookout tower at the park's highest point, which has a 360° view of land and sea.