Dig and Dine on Nova Scotia's Eastern Shore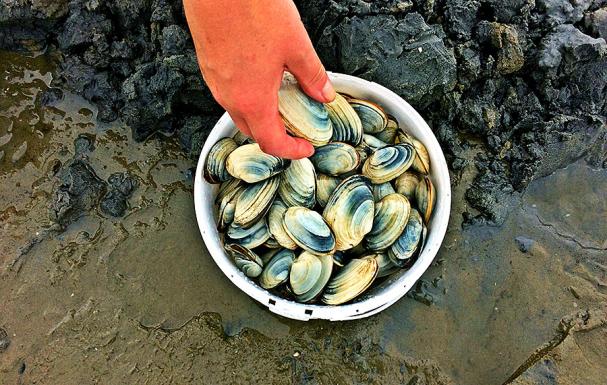 Are you ready to get digging? A stop at Memory Lane on Nova Scotia's Eastern Shore is where your adventure begins. Take a stroll around this historic 1940's heritage village that captures a moment in history when clams were an integral part of the homegrown economy. Then head out to aptly named Clam Harbour to dig for your own clam harvest.
A 5th generation clammer from Memory Lane will lead you out to Clam Harbour where you can learn how to dig for your own dinner. Darcy, and his son Lucien, will turn you into an experienced clammer by the end of your dig. The soft sand of the ocean floor is very inviting and filled with delicious fresh clams. Prepare to get muddy! No doubt you will also be given a history lesson, while Darcy shares colourful stories about growing up in a clam digging community.
Back in the 1940's, Clam Harbour was a roaring canning village. Men, women, and children all pitched in to take advantage of the boom in canned seafood. Buildings were constructed close to the water's edge to ensure that the freshness of the clams could be preserved. The clams were cleaned, shucked, smoked, and then packed for travel across the ocean. Famous New England clam chowder became a sensation thanks to Nova Scotia clams.
After you are done clamming, head back to The Memory Lane cookhouse to enjoy a feast of fresh clams, baked beans, brown bread and tea. With the set up straight out of the 1940's, visitors cannot help but feel like they took a big step back in time.