Cabot Trail Road Trip Highlights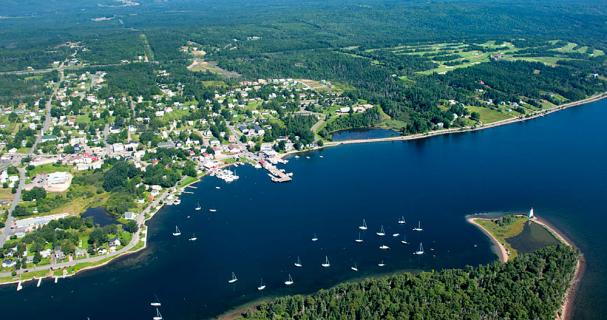 Nova Scotia's most famous attraction, the incredible Cabot Trail on Cape Breton Island, is best experienced when you take time to explore all that it has to offer. There is much to discover when rounding the 580-kilometer tip of Cape Breton. The trial is surrounded by four different bodies of water, with stunning vistas and unparalleled beauty waiting around every turn.
When planning your road trip, keep in mind that there are a couple of places you can begin your journey from. Starting from the lovely town of Baddeck is a common point. Be sure to spend a few hours exploring the wonderfully informative Alexander Graham Bell Museum. You can even take a selfie shot with Mr. Bell and his wife Mabel in the form of a sculpture along the town's waterfront.
Tucked away on the eastern end of the Cabot Trail is Ingonish beach. One truly unique fact about this tranquil beach is the Atlantic Ocean on one side and a freshwater lake is on the other. You can choose to dip in the salty sea or plunge into crisp fresh water.
Looking for some wildlife? Sign up for a dolphin and whale watching tour in Ingonish. Make sure to have your camera ready - whales love Atlantic Canada and may even greet you by breaching the surface!
Cape Breton Highlands National Park is a must for adventure enthusiasts. The park has 27 hiking trails for all levels of experienced or inexperienced travelers. Pack a picnic lunch or plan a romantic fresh seafood feast.
Chéticamp on Cape Breton Island is the perfect place to indulge in a steaming bowl of seafood chowder. The Acadian Coast has a distinctive French culture. The Mi-Carême Interpretive Centre will educate and inform visitors about the long history of the early settlers.
Margaree Valley and Harbour is a place of unprecedented beauty. It will also entice those who love to fish to cast out a line and enjoy the great outdoors. You can even pop into the Salmon Museum, which is located inside an old schoolhouse along the way. Don't miss spectacular Egypt Falls. It is a rather steep incline to get to, but well worth the trek. Be sure to pack extra water bottles for hiking in and around the falls.
The roads in around the Cabot Trail are narrow and often steep. While it may only take five hours to drive the awe-inspiring trail, plan for longer. It is one of the most visited spots in Nova Scotia; everyone comes for the panoramic views but stays for the tranquility.