Beach Roaming on Prince Edward Island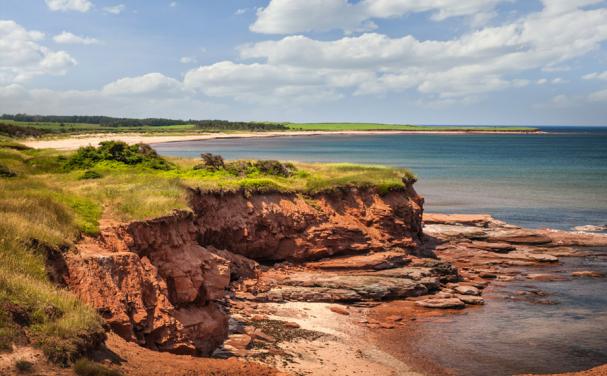 Known for its unique red sandy shores, Prince Edward Island boasts more than 800 kilometers of coastline, and some of the warmest beaches north of the Carolinas. It is no wonder that tourists have visited the "Gentle Island" from all around the world.
Cavendish Beach is part of the P.E.I. National Park, which offers exceptional programs that will educate nature lovers on geology, wildlife and various habitats within the park. Walking along the white sands, or taking a dip in the ocean, beach roamers will find miles of sand dunes, sandstone cliffs, wetlands and even forests
Cabot Beach Provincial Park is the quintessential family-friendly park, with a supervised area for swimming on Malpeque Bay. The name is derived from the Mi'kmaq word meaning "big bay." Besides swimming at the park, Malpeque Bay is also known for its many secluded beaches, found in and around the area, enticing beach roamers to spend the day exploring and soaking in the salty Island air.
A popular destination for many visitors, Brackley Beach offers miles of unspoiled sandy beaches with awe-inspiring rustic scenery. This beach is part of Prince Edward Island's National Park, allowing visitors to camp while surrounded by the rustic beauty.
Kings Castle Provincial Park evokes that magical feeling you get when visiting the Island. The park is filled with family-friendly activities, including statues of storybook characters. Stay and play while saving some time to lie on the riverfront beach, which boasts a magnificent view of the Murray River. Located in Gladstone, this out of the way park is worth the drive for the kids and your best fur buddy; on leash pups are also welcome as you explore this pristine waterway.
Souris Beach Provincial Park is a day-use beach allows visitors to venture several hundred feet out into shallow warm water with nothing but sand between your toes. This is also a fantastic roaming place for those that love collecting beach glass, or "sea glass" as it is commonly known. Pack a picnic or grab a fresh lobster roll from The Lobster Shack just up the road.