Dockside Inn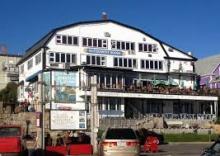 84 Montague Street
Box 298
Overview
~~There is no finer vantage point from which to savour Lunenburg's unique charms than the Dockside Inn and Restaurant on the South Shore region of Nova Scotia. Situated harbourside, "The Dockside" provides an unobstructed view of Lunenburg's famous Fisheries Museum, the colourful waterfront, and one of Lunenburg's most historic districts. In addition, the natural beauty of the Bluenose Golf Course sits just across the harbour and the Theresa E. Connor - last of the Saltbanker Schooners - is moored just across the street.
Staying or dining at The Dockside gives you a front row seat to one of the finest cultural stages on the Eastern seaboard. Lunenburg is a UNESCO World Heritage site, birthplace of the schooner Bluenose, and home port to Nova Scotia's sailing ambassador, the Bluenose II. Make your stay memorable by enjoying the finest view in Lunenburg!
Our accommodations include four suites, (twin, double and queen beds; two housekeeping suites), with 4-piece baths. All rooms include cable television, air conditioning, wireless Internet, and telephone. All suites and standard rooms have outstanding views of Lunenburg Harbour and the Bluenose II, when in port. All major credit cards are accepted.
Cancellation policy: Must cancel 48 hours prior to day of arrival.
Amenities
Air Conditioning

Bed Size - D (Double)

Bed Size - Q (Queen)

Cable or Satellite

Clock/Alarm

Dining Room

Ensuite Bath (4 Piece)

High Speed in-room Internet Access

Lounge (Licensed)

Open Off Season

Outdoor Parking

Self-Contained Kitchen

Telephone (In-Room)

TV (In Room)

WiFi