Pleasant View Bed and Breakfast & Guest Home
Pleasant View Bed and Breakfast & Guest Home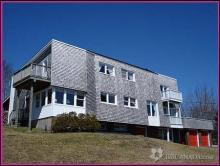 Pleasant View Bed and Breakfast & Guest Home
9301 St. Margaret's Bay Road
RR#2
(902) 857-1201
(902) 858-2071
Overview
Pleasant View Bed & Breakfast and Guest House is centrally located in the heart of Nova Scotia's scenic Lighthouse Route on the South Shore region. Our 20-acre property is adjacent to the Rails to Trails nature trail for those who enjoy hiking, biking, or a simple, pleasant stroll through the countryside. The trail affords a unique opportunity to view some of the abundant wildlife in the area. Guests can also go fishing off the rocks in front of the house.



The port city of Halifax and its historic waterfront boardwalk is within an easy driving distance on a major highway. Also within easy distance is Queensland Beach, a great spot for those wishing to take a casual walk alongside the ocean or to simply relax and enjoy the sights and sounds of the waves breaking on the shore.



The Lighthouse Route offers a variety of things to see and do. Travel down the scenic coastal route to the world-famous Peggy's Cove Lighthouse. The nearby postcard-perfect town of Mahone Bay is a treasury of history, culture and 19th-century architecture. The charming main street hosts an assortment of art galleries, specialty shops, and living museums – all within an easy stroll. You can enjoy an evening of live theatre at the Chester Playhouse, where you can see concerts, dance, classical music, readings and lectures, comedy, and world-premiere theatre productions.



Our accommodations include two rooms (twin and queen-sized beds), with ensuite baths (3- and 4-piece), cable television, and views of the bay. Guests can relax in our comfortable lounge or take advantage of our large patio deck, offering wonderful views of St. Margaret's Bay. We have a country kitchen with a wood stove, and offer a full breakfast between 8 a.m. and 8:30 a.m. Pets are permitted. 



In the guest house, we have 4 lovely natural-wood rooms (Q), ensuite 3-pc bath (jacuzzi), TV, pvt deck & pvt entrance; shared kitchen & dining area. Exceptional surroundings and views of the bay.



We accept cash and personal cheques only; no credit cards.



Cancellation policy: Must cancel 48 hours prior to the day of arrival for a full refund of your deposit.
Amenities
Beach Nearby

Bed Size - Q (Queen)

Bed Size - S (Single)

Cable or Satellite

Cellular Access

Clock/Alarm

Clothes Storage

Ensuite Bath (3 Piece)

Ensuite Bath (4 Piece)

Full Breakfast

In-room Jacuzzi

No Pets Please

Non-Smoking Property

Outdoor Parking

Pets on Premises

Self-Contained Kitchen

Telephone (On-site)

TV (In Room)