Colwell's by the Sea Oceanfront Cottages (Periwinkle)
Colwell's by the Sea Oceanfront Cottages (Periwinkle)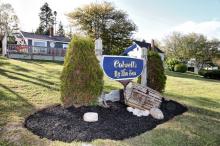 Colwell's by the Sea Oceanfront Cottages (Periwinkle)
(709) 745-2760
(800) 780-3682
Overview
Colwell's by the Sea, located in Queensland on the South Shore offers private and peaceful oceanfront cottages overlooking Whynacht's Beach and St. Margaret's Bay. Enjoy your privacy, relax by the fire and absorb the sound of the ocean in your very own cottage.
Our cottages offer an ideal location to explore the beautiful South Shore. Nearby are quaint fishing villages, historic towns, a pristine coastline, lush green rolling hills and wilderness trails. Hike past quiet inlets, explore coves, or visit Peggy's Cove and its famous lighthouse. Guests can also visit the UNESCO World Heritage Site of Lunenburg, where fishermen still row wooden dories and where a working blacksmith still plies his trade amidst the beautifully preserved buildings of the old town district.
Our accommodations include 3 oceanfront cottages (2- and 5-bedrooms), featuring single and double beds,  3 and 4-piece baths, cable television, DVD player, hairdryer, duvets, a large deck, fireplace and a barbecue.
Visa and MasterCard are accepted.
Cancellation policy: Booking-specific.
Amenities
Beach Nearby

Bed Size - D (Double)

Bed Size - Q (Queen)

Bed Size - S (Single)

Birds & Wildlife

Cable or Satellite

Cellular Access

Clock/Alarm

Coffee Maker

Cyclists Welcome

High Speed in-room Internet Access

Microwave

Motorcycles Welcome

No Pets Please

Non-Smoking Property

Open Off Season

Outdoor Parking

Private Bath (3 Piece)

Private Bath (4 Piece)

Self-Contained Kitchen

Telephone (In-Room)

TV (In Room)

Washer/Dryer (On-Premises)
Room Rates
2 bedroom cottage, sand beach, fireplace, jacuzzi, washer and dryer!
Located close to Halifax in the Queensland area, and across the street from a beautiful and warm sandy beach, the Periwinkle Cottage is the perfect Nova Scotia seaside get-away for a relaxing escape to find summer beach time or autumn colours. This quaint 100 year old cottage began its life as a carriage house, and was later converted into a two bedroom holiday property.
All rooms enjoy fully vaulted cathedral ceilings providing a feeling of space and openness. The large outdoor wrap-around deck and BBQ adds to the available living area and provides fabulous views of the adjacent beach and ocean, while the stone wood-burning fireplace in the living room gives off ample early/late season heat and ambiance. The Periwinkle Cottage is an evolving blend of old and new; with quirky old-building idiosyncrasies and antiques situated alongside modern conveniences like quality linens, new granite kitchen counter tops, WIFI, a jetted tub, and Nespresso coffee maker. The two bedrooms are comfortable, with a queen sized pillow-topper double bed in one and built-in cozy children's bunks in the other. New addition Spring 2018 houses washer and dryer.
The Periwinkle has been extensively renovated under new ownership while retaining its original charm. High Speed Internet is available. The cottage sleeps a maximum of four people and is best suited for either a couple, or a family with two children. This is a calm and relaxing location intended for slow days and recharging for a small group. It is less suitable for groups of four adults, and not appropriate for party gatherings.
The Periwinkle Cottage is available for weekly rentals from lobster season in early June through to the climax of the intense autumn leaf colours in late October. The double-paned, easy siding Kohler windows, the stone fireplace, baseboard heaters and large new ceiling fan ensure comfort and warmth throughout the shoulder seasons, and the airiness of the vaulted ceilings ensure comfort and easy-breathing during the warmer summer months. This is a cozy little cottage, a perfect setting for exploring all Nova Scotia has to offer.
For a 3D 360 tour of the Periwinkle, please click HERE