Colwell's by the Sea Oceanfront Cottages (Eelpot)
Colwell's by the Sea Oceanfront Cottages (Eelpot)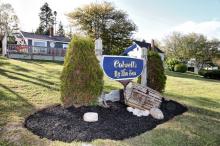 Colwell's by the Sea Oceanfront Cottages (Eelpot)
(709) 745-2760
(800) 780-3682
Overview
Colwell's by the Sea, located in Queensland on the South Shore offers private and peaceful oceanfront cottages overlooking Whynacht's Beach and St. Margaret's Bay. Enjoy your privacy, relax by the fire and absorb the sound of the ocean in your very own cottage.
Our cottages offer an ideal location to explore the beautiful South Shore. Nearby are quaint fishing villages, historic towns, a pristine coastline, lush green rolling hills and wilderness trails. Hike past quiet inlets, explore coves, or visit Peggy's Cove and its famous lighthouse. Guests can also visit the UNESCO World Heritage Site of Lunenburg, where fishermen still row wooden dories and where a working blacksmith still plies his trade amidst the beautifully preserved buildings of the old town district.
Our accommodations include 3 oceanfront cottages (2- and 5-bedrooms), featuring single and double beds,  3 and 4-piece baths, cable television, DVD player, hairdryer, duvets, a large deck, fireplace and a barbecue.
Visa and MasterCard are accepted.
Cancellation policy: Booking-specific.
Amenities
Beach Nearby

Bed Size - D (Double)

Bed Size - Q (Queen)

Bed Size - S (Single)

Birds & Wildlife

Cable or Satellite

Cellular Access

Clock/Alarm

Coffee Maker

Cyclists Welcome

High Speed in-room Internet Access

Microwave

Motorcycles Welcome

No Pets Please

Non-Smoking Property

Open Off Season

Outdoor Parking

Private Bath (3 Piece)

Private Bath (4 Piece)

Self-Contained Kitchen

Telephone (In-Room)

TV (In Room)

Washer/Dryer (On-Premises)