Balmoral Motel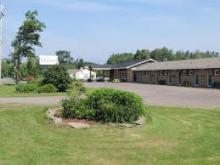 Overview
Let us first introduce ourselves.
We are Beatrice and Josef Almeida originally from Switzerland. As of Spring 2019, we are the proud new owners of the Balmoral Motel, located in beautiful Tatamagouche, Nova Scotia. Our adventure in Canada began in 2017 when we took a family trip with our three children, Sofie, André and Robin, traveling throughout this Maritime province. We had the opportunity to experience the amenities of the North Shore area, encountering local residents, visiting attractions and enjoying the hospitality of the region. We realized we wanted to set down roots in this lovely and welcoming part of the province. For 10 years we operated a successful bed and breakfast in Turbenthal, Switzerland, about 30 minutes from Zurich, so operating a motel was a natural progression for us, and helped us to realize a great dream that remained unfulfilled for a long time.
The motel was established in 1967. Over the decades, the motel has undergone changes with many additions and upgrades, for example going from 9 to 18 rooms. In the coming year, we have plans to upgrade various aspects of the motel to make your stay an even better and enjoyable experience. Throughout we will continue to provide excellent customer service to which our guests are accustomed. We are firmly committed to continuing a decades long legacy of providing a welcoming and comfortable place to stay, a home away from home, for families, friends and travelers who pass through Tatamagouche.
Amenities
Bed Size - D (Double)

Bed Size - K (King)

Bed Size - Q (Queen)

Breakfast Buffet

Cable or Satellite

Ensuite Bath (4 Piece)

Mini Fridge (In-Room)

Pets Are Welcome

Telephone (In-Room)

TV (In Room)

WiFi