MacKenzie House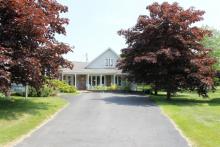 Port Hawkesbury
,
NS
B9A 2A6
(902) 625-1026
(800) 378-4042
Overview
The ideal location for those planning a vacation to explore the island and experience the seascapes, outstanding cuisine, hospitality, rousing ceilidhs and inspiring history. Visit the island and you will soon realize why Cape Breton has been given this distinction and has recently been noted as one of the most beautiful islands in the world. 
We offer warm hospitality in a quality setting on the front porch of Cape Breton Island. Treat yourself to the luxury of a property rated by Canada Select to be among the best in the country. We take pride in providing you with a very high level of service, hospitality and quality of accommodations. Our assistance and guidance is available upon request in an effort to make your stay more enjoyable and create a desire to stay a little longer or return to experience more of our culture.
MacKenzie House offers exceptional value for all those visiting the area and is strategically located for planning day trips about the island. Three rooms have queen-sized beds and ensuite, private 4-piece baths. A fourth room has a king size bed and an ensuite, private hot tub with the 4-piece bath. All guest rooms are new and feature central air conditioning/heating with individual room control, wireless internet, alarm clock radio, cable, color TV with remote, private patio and a private outside entrance. There is a sitting area and writing desk in each room. Our Rooms are Quiet, Relaxing, Secure and Peaceful.
The four guest rooms are identified by their own unique, handmade Scottish logo on the door. The Scottish Thistle, The Scottish Heather, and The Celtic rooms all have queen-sized beds, ensuite four-piece baths, individually controlled air-conditioning and very high quality bedding. These rooms are all on the ground floor. Our fourth room, the Scottish Highlander is of similar high quality but with an extra touch of privacy, a king size bed and an ensuite four-piece bath with a whirlpool hot tub, sky lite and a bathroom-shower combination. This room is on the second floor and has a private outside entrance as well as easy access to the guest lounge and the entertainment room. All guests are invited to enjoy our entertainment room with its professional size pool table, sitting area, stereo, TV and a light workout section which includes a computerized treadmill, workout bench and an exercise bike. Computer and wireless internet access are available along with fax, scanning, cd burning, and color printing services. A laundry facility, VCR availability, in room telephones, individualized room a/c-heat controls and private outside entrances are included. Rates STC $115 - $125; XP $25; weekly $725 AMCC, DD. CXL policy. Off season rates

Amenities
Access - Partial

Air Conditioning

Bed Size - K (King)

Bed Size - Q (Queen)

Cable or Satellite

Ceiling Fan or Oscillating Fan

Cellular Access

Clock/Alarm

Clothes Storage

Coffee Maker

Dining Room

Ensuite Bath (3 Piece)

Full Breakfast

In-room Jacuzzi

Microwave

No Pets Please

Non-Smoking Property

Open Off Season

Outdoor Parking

Restaurant (Nearby)

Self-Contained Kitchen

Telephone (In-Room)

TV (In Room)

TV (On-Site)

WiFi