The Luckenbooth Bed & Breakfast
The Luckenbooth Bed & Breakfast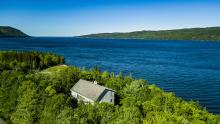 The Luckenbooth Bed & Breakfast
Overview
The Luckenbooth is the most romantic symbol of love dating back to 17th century Scotland. A heart and crown fashioned from gold or silver (for good luck, of course) is made into a brooch and bestowed as a token of affection and friendship. As the legend goes, the Luckenbooth has a particular power to ward off mischievous fairies and keep you safe along your travels.
The Luckenbooth Bed & Breakfast is a charming and friendly homestead by the sea, owned and operated by a 4th generation family of Cape Bretoners and located at the start of the world famous Cabot Trail. It is your perfect gateway for the many adventures of natural and cultural discovery, authentic maritime cuisine and for exploring one of the world's most breathtaking coastlines.
The Luckenbooth offers accommodations in four unique guest rooms, each with it's own story and inspiring ocean views of the Atlantic and St-Ann's bay. We look forward to welcoming you to The Luckenbooth and sharing our local caper's insights and hospitality, so you can enjoy the very best of what Cape Breton has to offer.
Amenities
Bed Size - Q (Queen)

Birds & Wildlife

Cable or Satellite

Ceiling Fan or Oscillating Fan

Clock/Alarm

Clothes Storage

Coffee Maker

Continental Breakfast

Ensuite Bath (4 Piece)

Full Breakfast

Mini Fridge (In-Room)

Non-Smoking Property

Open Off Season

Open Year Round

Outdoor Parking

TV (In Room)

WiFi