Joyce's Motel and Cottages
Joyce's Motel and Cottages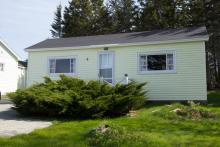 Joyce's Motel and Cottages
(902) 535-2404
(902) 625-5342
Overview
6 motel units (D,2D), 4-pc bath, CBTV; 6 one-bdrm  cabins (3 H; 1 with living room), 3-pc bath (S); 12 two-bdrm H cottages, 4-pc bath, CBTV, living room. Laundromat. Pool (out), playground, fishing.
A Home Away from Home
Situated on the Bras d'Or Lake, the largest salt water lake in the world, you'll find Joyce's Motel & Cottages, a cosy retreat for anyone looking for a relaxing getaway.
St. Peter's, Nova Scotia
There are plenty of things to do right here in St. Peter's. The famous St. Peter's Canal, which joins the Atlantic Ocean with the Bras d'Or Lake, is an important historic landmark and the Nicholas Denys Museum tells the story of the explorer and fur trader.
A drive through the countryside could reveal sighting of fox, white tail deer or bald eagles in flight.
The Village of St. Peter's will accommodate your needs, offering restaurants, service stations, drug and grocery stores and a local marina.
Situated on Highway 4, one mile east of St. Peter's
Amenities
Beach Nearby

Bed Size - D (Double)

Birds & Wildlife

Cable or Satellite

Cellular Access

Clock/Alarm

Cyclists Welcome

Ensuite Bath (4 Piece)

Mini Fridge (In-Room)

Motorcycles Welcome

Outdoor Parking

Pets Are Welcome

Private Bath (3 Piece)

Private Bath (4 Piece)

Restaurant (Nearby)

Self-Contained Kitchen

Swimming Pool (Outdoor)

Telephone (On-site)

TV (In Room)

Washer/Dryer (On-Premises)

WiFi