Cabot Cove Ltd.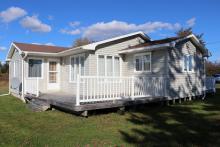 1054 West Side Middle River Rd.
Overview
Come and enjoy an unforgettable vacation, here on the shores of the Bras d'Or Lake, in the heart of beautiful Cape Breton Island. On our 1.5 acres property in Little Narrows, next to a little nature park with a pond, we offer you a cozy, comfortable and private 4 star vacation house with 3 bedrooms, a kitchen, a big living and eating area and an amazing terrace direct at the Bras d'Or Lake.
Here you have daily visits from a bald eagle, we called him Eddy, and from lots of other birds. The world famous Cabot Trail starts around 20 min away, the picturesque town of Baddeck at the Bras d'Or (with shops, restaurants, harbor and cultural offers like the museum of the celebrated inventor Graham Bell) is just 25 minutes away while the Highland Village Museum (with historical buildings of the pioneers) is about 15 minutes away.
Our Vacation House: "Eagle View" The outstanding panoramic view over the crystal clear water of the Bras d'Or Lake with its eagles and seagulls toward the mountains on the opposite shore, the location in a sheltered cove only 2km away from the ferry to Trans-Canada Highway (105, Exit 6) and about 20km away from the Capot Trail will offer you a fantastic vacation! You have a private driveway, an own terrace, own lawn, and your own water frontage where you can enjoy the rich wildlife in and above the beautiful Bras d'Or. The house is insulated and therefore as agreeable during the summer days as during the winter time. Additional there is an electric night storage heater for colder days.
Even though black flies and mosquitoes are not an issue because of the salty breeze from the Bras d'Or Lakes – all windows are screened. The house has 3 bedrooms, each with a clothing storage: the Master bedroom with a queen size bed from where you have a beautiful view over the Bras d'Or Lake, a children's room with a (twin-) bunk bed (which also can be used by teens or even adults!) with a few toys and kids' books and another bedroom with a queen size bed. So we can accommodate a maximum of six people if they are a part of a group. The kitchen is well equipped with microwave, coffee machine, electric stove, fridge, freezer and all pots and pans. There is one bathroom with sink, shower and toilet. Furthermore there is a big eating and living area with an eating table and 2 cozy sofas and 2 recliners to enjoy the beautiful view out of the 2 windows over the Bras d'Or Lake! From the living area you have access (door) to the terrace of the house. For a few impressions of our estate, have a look at the various photos.
Amenities
Birds & Wildlife

Clothes Storage

Coffee Maker

Lake Access

Non-Smoking Property

Self-Contained Kitchen

Washer/Dryer (On-Premises)
Room Rates
Eagle View House / Seagull Apartment
Eagle View House $180.00 - $240.00 / Seagull Apartment $100.00 - $120.00