Tidal River Ridge Retreat
Tidal River Ridge Retreat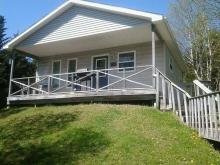 Charlotte and Ken Roberts
Tidal River Ridge Retreat
12 Tidal River Ridge Road
(902) 254-3333
(800) 806-8860
Overview
Tidal River Ridge Retreat is located in Moose River along the Bay of Fundy and Annapolis Valley region of Nova Scotia. We are proud of our unique Canadian setting, as well as our proximity to fossils and the ocean.
Our accommodations are spacious and comfortable, where you can curl up and relax in front of a fire after an eventful day of outdoor activity. A large deck complements the cabin and gives you the opportunity to lounge outside and admire the incredible scenery. Our retreat is located in Nova Scotia's Snow Belt and provides many advantages to vacationers. Activities include clam-digging, hiking, rock-climbing, kayaking, swimming, cross-country skiing, and snowshoeing.
Nearby attractions include the Fundy Geological Museum, Five Island Provincial Park, Ship's Company Theatre, the Anne Murray Centre, the Age of Sail Museum, and the Parrsboro Golf Club.
Our accommodations include four 2-bedroom and one 1-bedroom fully equipped housekeeping cottages with double or queen beds, 3- or 4-piece bath, television, radio, Wi-Fi, fireplace, and a barbecue. Cots are available. Outdoor activities include a recreation area, horseshoes, basketball, play area, a beach and salt- and freshwater swimming. Pets are welcome. Visa, MasterCard and Debit are accepted. Cancellation policy: 72 hours.
Amenities
Beach Nearby

Birds & Wildlife

Ensuite Bath (3 Piece)

Ensuite Bath (4 Piece)

Non-Smoking Property

Outdoor Parking

Pets Are Welcome

Self-Contained Kitchen

TV (In Room)

WiFi