A Newfoundland Vacation Home,Devil's Cove.
A Newfoundland Vacation Home,Devil's Cove.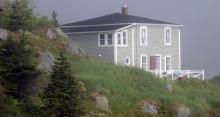 A Newfoundland Vacation Home,Devil's Cove.
(866) 408-4748
(613) 328-8720
Overview
Devil's Cove, a 4 and a half star 4 bedroom vacation rental home, is located in Port Rexton, in Trinity Bight on the Bonavista Penninsula on the east coast of Newfoundland, just under 3 hours from St. John's. (Visit our website www.newfoundlandvacationhomes.com for full information. Surrounded by majestic seacoast, this vacation home offers stunning coastal views of the powerful Atlantic Ocean and the crashing sounds of waves lashing against rugged shorelines and the picturesque Fox Island. From your bedroom, whales are sometimes heard singing on a still night. This fine accommodation is a meticulously restored four-bedroom vacation home, tastefully furnished with understated elegance. Hiking begins at your door and the famous Skerwink hiking trail, rated one of the best hiking trails in North America (Leisure and Travel 2003)is moments away. Named for its location on the ocean front of Devil's Cove, Port Rexton, Newfoundland, this vacation home sits on a meadow abutting the ocean. Follow the meandering path from your door to the cove where fishers tied their boats in days gone by; take the plunge if you are brave of heart. The more delicate souls may consider a warm bath in an original cast iron claw-footed tub while enjoying the magnificent view of Fox Island and the Atlantic ocean beyond. This traditional vacation home is a restored gem featuring an open concept living room, dining room and kitchen. It provides you with generous living space for your vacation. Devil's Cove is tastefully decorated and luxuriously appointed throughout. It is a setting truly unique. Enjoy it from the comfort of the deck overlooking the ocean. Newfoundland Vacation Homes offer a unique, authentic experience for travelers and vacationers. Each home allows guests to prepare their own meals, entertain guests or just enjoy the luxury of a whole house to themselves during their travels. These homes represent tremendous value for visitors, since significant savings can be quickly realized through the preparation of some meals and the relatively low per-person per-night costs. It truly provides a comfortable home-base from which to explore the Discovery Trail and the Bonavista Peninsula. Are you artistic? Devil's Cove has a detatched artist studio where you can let your creativity soar. (book separately). Amenities Canada Select 4 and a half Star, extremely well equipped kitchen overlooking the ocean. All basic staples provided--sugar flour tea, spices, etc. 4 bedrooms, 2 with double beds and 2 with singles--2 full bathrooms. Ample linens, towels, bedding provided. Large dining room overlooking ocean. Living room, kitchen and dining room all with ocean view. Large deck overlooking ocean. Deck chairs, BBQ, smoke-free. Newfoundland art, literature and furnishing. Washer dryer. Thermostatially controlled electric heating in every room. Telephone. TVs, DVD. Convenient grocery shopping nearby. Activities and Attractions Famous Skerwink Trail commences a brief stroll away. Minutes (13)from Trinity and the Rising Tide Theatre. Fine dining nearby. Whale watching, boat tours, kayaking, bird watching, iceburgs, hiking all nearby. Detached artisan studio available. Must be booked in advance.
Amenities
Bed Size - D (Double)

Bed Size - Q (Queen)

Bed Size - S (Single)

Cable or Satellite

Ceiling Fan or Oscillating Fan

Cellular Access

Clock/Alarm

Clothes Storage

Coffee Maker

Cyclists Welcome

Microwave

Motorcycles Welcome

Non-Smoking Property

Outdoor Parking

Pets Are Welcome

Private Bath (4 Piece)

Restaurant (Nearby)

Small Pets Welcome

Telephone (On-site)

TV (On-Site)

Washer/Dryer (On-Premises)

WiFi