A Newfoundland Vacation Home--Skerwink Station
A Newfoundland Vacation Home--Skerwink Station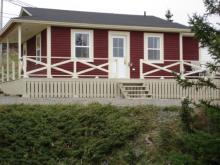 A Newfoundland Vacation Home--Skerwink Station A0C 2H0
(613) 328-8720
(866) 408-4748
Overview
Skerwink Station House is located in Trinity East, a quaint and beautiful out-port of Newfoundland. Visit our website for more pictures and details and our other houses: www.newfoundlandvacationhomes.com To the left of this newly restored cottage commences the acclaimed Skerwink Trail, rated by Travel + Leisure 2003, as one of the top 35 hiking trails in North America and Europe. To the right, the level ocean-side rail-bed winds through the outport, past active fishing wharfs and around the harbour. Welcome to the Rock. It's different here. Remember those Breathe in --breathe out ads. This is the place where the fresh sea breezes happen. So, slow down and be enchanted by the beauty that lies so near. Renew your sense of wonder at the world. One of the greatest things about many of the houses in this area has to be their location. Certainly this is true of the Station House. It is ideally situated at the very entrance to the world-class Skerwink hiking trail. And, as they say here, "A hike to Skerwink can change your life." Skerwink Station House is also just steps away from the wharfs, (which are the heart of the outport) an assortment of Bay Houses, the harbour, and the ocean beyond. It is a tranquil, restful spot, complete with the sound of the put-put of the single-stroke engine of the trap-skiff heading out the harbour; or the haunting sound of the lighthouse horn drifting on the soft night air. Skerwink Station House provides the setting for the sights and sounds of the area to wash over you while you soak in the comforts and aesthetics of rural Newfoundland. You become one with your environment and content in the moment. This is where creativity begins. Skerwink Station House is meticulously re-stored, fully-equipped and furnished, ready to become your home-away-from home. It accommodates up to 4 people. A Newfoundland Vacation Home, Skerwink Station House offers a unique, authentic experience for travelers and vacationers. It allows guests to prepare their own meals, entertain guests or just enjoy the luxury of an entire house to themselves during their travels. This home represents tremendous value for visitors since significant savings can be realized through the preparation of some meals and the relatively low per-person per-night costs. It truly provides a comfortable home-base from which to explore the area. Vacation Rental Amenities Fully-equipped kitchen, dining-room, living-room looking out to wooded trails; front/side decks, southern exposure. Sleeps 4 in affordable luxury. 4 piece bath; staples provided (i.e. tea, flour, sugar, spices etc.) One queen bed, and one double pull- out, all linens, bedding, towels provided; telephone, TV, DVD, BBQ; Laundry. Activities and Attractions Watch moose at dusk, see eagles drifting overhead; Hiking, hiking and more hiking. 14 Minutes from Trinity and theatre, fine dining, boat-tours, kayaking; in season, see icebergs and whales; golfing nearby.
Amenities
Bed Size - Q (Queen)

Birds & Wildlife

Cable or Satellite

Ceiling Fan or Oscillating Fan

Cellular Access

Clock/Alarm

Clothes Storage

Coffee Maker

Cyclists Welcome

Dining Room

Ensuite Bath (4 Piece)

High Speed in-room Internet Access

Microwave

Motorcycles Welcome

Non-Smoking Property

Outdoor Parking

Pets Are Welcome

Self-Contained Kitchen

Small Pets Welcome

Telephone (In-Room)

TV (In Room)

WiFi
Room Rates
Fully equipped vacation home with 1 queen sized bedroom (plu a hide-a-bed in the living room).  Right at the entrance to the famous Skerwink Trail.  Get an early morning start.