Mayo Cottage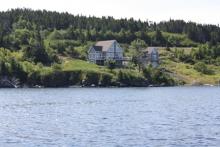 (709) 786-7527
(709) 683-0698
Overview
Relax, explore and recharge. Welcome to Mayo Cottage located in the beautiful and quiet town of Southern Bay on the Bonavista Peninsula. This recentlyconstructed, two bedroom, two bath waterfront vacation home offers modern comforts and conveniences, privacy and beautifulviews of this picturesque Bay. It's a wonderful place to relax, unwind and take in the natural surroundings. Mayo Cottage is conveniently located for day trips to the many attractions found on the Bonavista Peninsula. It is within easy driving distance of the historic towns of Trinity and Bonavista. Explore the natural, historic and cultural features of this popular tourist destination. Spend the day watching whales and ice bergs(in season and if nature allows), visit a puffin colony (in season), hike to resettled communities, take a boat tour, go kayaking, attend a play, visit museums, go golfing, eat at a fabulous restaurant, or relax on the deck. We are located 44 kilometers from the TCH. Relax, explore and recharge. This spacious A-frame design cottage has a large deck from which to enjoy the pristine surroundings, the natural environment of the coastline, the spectacular sunrises and sunsets, the smell of the salt air, the sound of the seagulls and loons.
Amenities
Beachfront Property

Bed Size - Q (Queen)

Birds & Wildlife

Clock/Alarm

Clothes Storage

Coffee Maker

Ensuite Bath (3 Piece)

iPod Dock

No Pets Please

Non-Smoking Property

Outdoor Parking

Self-Contained Kitchen

Shared Bath (3 Piece)

Telephone (On-site)

TV (On-Site)

Washer/Dryer (On-Premises)

WiFi
Room Rates
Two Bedroom Vacation Home
Rent home for $200 to $250 per night. Two night minimum.
The second floor bedroom has an en suite 3 piece bathroom (soaker tub with hand held shower). The other bathroom is 3 piece with walk in shower. It is located directly across the hall from the ground floor bedroom.