Skipper's View B & B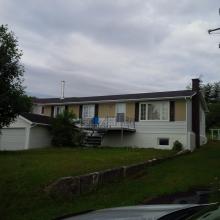 Point Leamington
,
NL
A0H 1Z0
(709) 484-3415
(709) 290-3756
Amenities
Beach Nearby

Beachfront Property

Bed Size - D (Double)

Bed Size - S (Single)

Birds & Wildlife

Cable or Satellite

Ceiling Fan or Oscillating Fan

Cellular Access

Clothes Storage

Coffee Maker

Computer Access (Available)

Continental Breakfast

Cyclists Welcome

Environmentally Friendly

Indoor Games Area

Indoor Parking

Laundry Service Available

Luggage Assistance

Meeting Rooms

Microwave

Motorcycles Welcome

Non-Smoking Property

Open Off Season

Outdoor Parking

Restaurant (Nearby)

Self-Contained Kitchen

Shared Bath (3 Piece)

Small Pets Welcome

Swimming Pool (Outdoor, Heated)

TV (On-Site)

Washer/Dryer (On-Premises)

WiFi
Room Rates
Take a step back  in time when a home was furnished with locally designed & constructed crate furniture - from wood savaged from wooden crates,created out of necessity! This spaceous room is declorated with an antique double and single bed (with comfortable mattresses) , dresser, rocking chair and art work of days gone by. Take in the view from the large window over looks beautiful Point Leamington Harbour!