B's Old Brook Cottage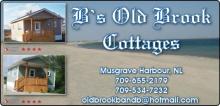 Old Brook Enterprises Limited
PO Box 112
472 Main Street
Musgrave Harbour
,
NL
A0G 3J0
(709) 655-2179
(709) 534-7232
Overview
The Old Brook Cottage with two bedrooms and a fully equipped cottage kitchen ,was built for the travellers who needed a place to relax. With the beach front across the road it's a nice place for walking ,hiking ,beach combing atving or maybe a beach fire. At the cottage there is all the convinces to make your stay as comfortable as possible. We have telephone ,wifi, cable TV ,laundry service, fax and photocopy services .If there are any questions or concerns, your host live a stones throw away and would be more than happy to help. See you soon.
Some near by attractions, may I suggest ;
Barbours Living Heritage site at Newtown approx.30 minuted drive.
TheTown of Gander has the largest retail shopping hub in central Newfoundland approx.1 hour drive
Town of Twillingate makes for a nice day trip for a visit.
Fogo Island and Change Islands another nice day trip.
Boydes Cove Beothuck interperation center morning trip on the way to Fogo and Twillingate.
Banting Memorial park just minutes away with a playground, paddle boats,canteen,mini golf, salt and fresh water beach and the Banting Memorial Interperation center, rv and tenting area.Approx 5 minutes drive.
Fishermans museum of Musgrave Harbour,full of artifacts from the old times and rural newfoundland.
The orange hall heritage building.
The Marina where all of the community fishermen dock their boats and have a chat, ya never know you might get some fresh sea food.
Beothic Fish Processors is about 40 minutes drive at New Wes Valley where all sorts of seafoods are processed.
There are 3 restaurants in our community.
Gas, convenience, groceries, liquor express and two bars in our town.
 Picking the delicious wild berries when in season.
Fly fishing form the Alantic salmon in either of the 4 schedualed rivers just minutes away, or the mighty Gander River in about 35 minutes drive away.
Amenities
Beach Nearby

Beachfront Property

Bed Size - D (Double)

Bed Size - Q (Queen)

Birds & Wildlife

Business Services

Business Services

Cable or Satellite

Ceiling Fan or Oscillating Fan

Cellular Access

Clock/Alarm

Clothes Storage

Coffee Maker

Computer Access (Available)

Cyclists Welcome

Environmentally Friendly

High Speed in-room Internet Access

Laundry Service Available

Luggage Assistance

Microwave

Mini Fridge (Available)

Motorcycles Welcome

Open Off Season

Outdoor Parking

Private Bath (4 Piece)

Restaurant (Nearby)

Self-Contained Kitchen

Shared Bath (4 Piece)

Small Pets Welcome

Telephone (On-site)

TV (In Room)

TV (On-Site)

Washer/Dryer (On-Premises)

WiFi