Murray House Vacation Home
Murray House Vacation Home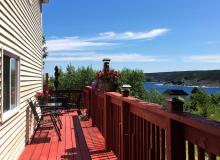 Overview
Leave the accommodations to us! Our cozy, clean, duplex style, country home, is located Pouch Cove, Newfoundland, a small town with its roots in the fishing and farming industries. Our vacation home is surrounded by an abundance of natural landscapes and has amazing ocean views. Myself and my husband, a middle-aged couple, live in the second side of the duplex and, although respectful of privacy, are available when requested and do our utmost to ensure our guest's holiday experience is filled with positive memories. Visitors to our area are impressed by the lack of industrial noise and the pleasing fresh country air, beautiful views, and friendly residents. Also, because Pouch Cove is located just 20 minutes from the city, we are perfectly situated for guests to experience  Newfoundland's unique urban and rural cultures. Our vacation home offers in-lane, parking immediately adjacent to the private front entrance. There are no other homes within direct contact to the home. Mature trees form boundaries along the distant perimeter of the property and flowering plants on the side border add distinction and color during the summer season. Just beyond the side border of property is a tall hill from which one can see amazing views of the horizon, ocean, shoreline, and a large portion of Pouch Cove. Our vacation home has a huge, enclosed, 3 section, patio with an amazing ocean view. In the summer season, the patio is outfitted with a 4 burner, family sized, propane BBQ and an assortment of patio furniture. The house's interior is cozy and, although fully renovated within the past few years, captures the feeling of outport living. Because it has only 2 bedrooms, it is not suited for group sizes of larger than 4 people. We are pet friendly for small, non-destructive, pets.Furnishings inside the house include a washer, dryer, fridge, stove, microwave, countertop dishwasher, 4 slice toaster, Keurig and drip coffee machines, pots, pans, slow cooker, dinnerware, utensils, bar height table with 4 chairs, full sofa, rocker recliner, end tables with accent lighting, 55-inch flat screen TV on an electric fireplace, and, in each of the two bedrooms, a double bed, 48-inch TV on electric fireplace base, and a computer table with chair. We have shower and whirlpool tub. Cleaners, detergents, linen, shampoo, toilet tissue, and paper towels are included at no extra charge. We subscribe to high speed wi-fi internet and a large assortment of cable television networks including many movie networks and Netflix. For day trips and sight-seeing opportunities, there are two rugged hiking trails, part of the East Coast Trail, about 5 minutes in either direction from our home. Be sure to keep a watch for icebergs, whales, and ships, and other ocean attractions which, in season, are commonly seen in our coastal waters. Birdwatching enthusiasts will appreciate the many species of songbirds and ocean birds that make Pouch Cove their home. The migratory pattern of birds welcomes different species during different seasons of the year. Be sure to keep a well charged camera to capture the essence of your amazing, well-deserved, vacation. Breathe in fresh air and breathe out stress.
​
Amenities
Beach Nearby

Bed Size - D (Double)

Bed Size - Q (Queen)

Birds & Wildlife

Cable or Satellite

Ceiling Fan or Oscillating Fan

Cellular Access

Clock/Alarm

Clothes Storage

Coffee Maker

Computer Access (Available)

Cyclists Welcome

High Speed in-room Internet Access

iPod Dock

Laundry Service Available

Microwave

Non-Smoking Property

Open Off Season

Open Year Round

Outdoor Parking

Pets Are Welcome

Private Bath (3 Piece)

Restaurant (Nearby)

Self-Contained Kitchen

Small Pets Welcome

TV (In Room)

TV (On-Site)

Washer/Dryer (On-Premises)

WiFi
Room Rates
Entire 2 bedroom vacation home
Cozy, duplex design, country home just 20 minutes from the city. We feataure an established bird feeder, whirlpool tub, generous amenities, and a large, gated, wrap around patio with ocean and garden views. My husband and I, a mature middle aged couple, live in the second house and are accessible to our guests.