Sportsman's Pride Outfitters
Sportsman's Pride Outfitters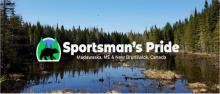 Sportsman's Pride Outfitters
Overview
Welcome to Sportsman's Pride Outfitter, my name is Tyler Sellers and I am the owner and operator of sportsman's pride.
For as long as I can remember I've loved the outdoors and pursuing game, when I was young my father taught me how to work hard and be thankful for every moment you have.
Before starting the journey with sportsman's Pride, I spent my time working a full time and very demanding career as a welding inspector as well as making sure I had time to pursue my real passion as a hunting guide.
I dreamt of turning my passion into a full time career as an outfitter. Then one day I had an opportunity to do so with sportsman's pride. I'm sure we all struggle with not having enough time to pursue what we enjoy about the outdoors.
Now as a guide and outfitter I can help people enjoy there time seeking adventures in the untouched wilderness of Maine and New Brunswick, Seeking trophy class game. 
Can't wait see you at Sportsman's Pride where we always take pride in the Hunt!