June's B&B By The Sea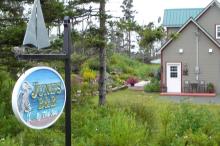 Malignant Cove
,
NS
B2G 2L1
Amenities
Beach Nearby

Bed Size - D (Double)

Bed Size - Q (Queen)

Birds & Wildlife

Cable or Satellite

Ceiling Fan or Oscillating Fan

Clock/Alarm

Clothes Storage

Coffee Maker

Computer Access (Available)

Dining Room

Environmentally Friendly

High Speed in-room Internet Access

Luggage Assistance

Mini Fridge (Available)

No Pets Please

Outdoor Parking

Private Bath (4 Piece)

Telephone (On-site)

TV (On-Site)

WiFi
Room Rates
2 bdr. fam. suite with a 4 pc pvt. bath. May book one or both rooms
High season $90 -$140 a night. Low season $80-$130 a night
The Deluxe 2 bed room fam. suite with a 4piece private bath each has its own private entrance. The Sand Dollar room has a Queen size bed with a high end mattress. The Starfish room has a double bed with a high end mattress and has an ocean view. Both rooms overlook the English style garden that runs along the south side of the B&B. There is a fridge desk and phone in the hall entrance and a lounge area downstairs to be enjoyed by all.