Still Waters Bed and Breakfast
Still Waters Bed and Breakfast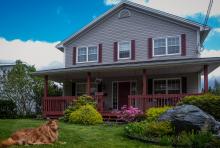 Still Waters Bed and Breakfast
Overview
Located on the picturesque Waverley Road in the heart of Dartmouth's Lake District, we are pleased to offer you four unique and specially decorated rooms to suite your taste. Two rooms are standard and two are deluxe rooms with spa tubs. All rooms have flat screen TVs, in room coffee and tea, queen beds, and plenty of space to relax. Wifi is available on site for free, as is Netflix.
Our location offers you very close access to lakes, parks, and trails for swimming, boating, hiking, and biking. Downtown Dartmouth is five to seven minutes away, and downtown Halifax is an enjoyable ferry ride beyond. Major shopping is less than five to seven minutes in any direction. The Robert Stanfield International Airport is only twelve minutes away for those travelling by air. Ocean beaches, restaurants, shops, historical sites, and more are all around. Peggys Cove, the Annapolis Valley, and Eastern Passage are just some of the scenic areas that are well within your reach from our B&B.
If you prefer to take it easy, you can relax in our beautiful mature gardens, read a book from our library, or join us for afternoon tea. We are located on a major Metro Transit bus route, and are in an area friendly to cyclists.
Amenities
Air Conditioning

Beach Nearby

Bed Size - Q (Queen)

Cable or Satellite

Clock/Alarm

Clothes Storage

Coffee Maker

Continental Breakfast

Cyclists Welcome

Deluxe Continental Breakfast

Ensuite Bath (3 Piece)

Ensuite Bath (4 Piece)

Full Breakfast

In-room Jacuzzi

Mini Fridge (Available)

Non-Smoking Property

Open Off Season

Outdoor Parking

Telephone (On-site)

TV (In Room)

WiFi